Hi everyone!
I am new here and have tried to do a search on the question at hand but haven't found any answers. I might need some expert help ...
Here goes: I am looking to purchase this Squier JV Telecaster, supposedly from the early eighties. According to the information I have found here, everything looks good in the photos. It has the DM30 pickup switch and all cloth wiring. The headstock looks right and it has (almost ...) all slotted screws. The neck is stamped EX and is pencil dated 7 20 82 (or 83, it's a bit hard to tell). There is no photo of the neck cavity.
First, I was put off by the fact that it has the serial number on the neck plate instead of the bridge, but that seems to have been normal for some of the early models, right? The Serial starts in JV10.
But: The neck is attached with Philips screws. So I am wondering: Did that happen sometimes? Has one of the owners of the guitar just changed the original screws to these (would that be a problem concerning the solidity of the neck connection)? Or is this not what it says it is?
I'd be very thankful for any help from the experts here.
Cheers!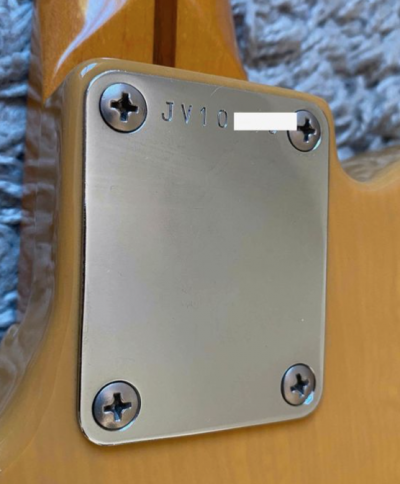 Last edited: